Oilseeds vibration cleaning sieve
This series of vibrating cleaning sieve use vibrating motor, damping rubber springs and other components is preferred, with low noise, smooth operation, low processing capacity, energy consumption, good cleaning effect, the whole closed and no dust outside and excellent performance characteristics.
YS-CLSV series vibrating cleaning sieve can be widely used in rice, flour, feed, oil, and food processing plants. Usually provided cleaning process used to remove large, medium, small and lightweight debris; it through the sieve with different specifications, the material can be graded according to particle size, available in different size products.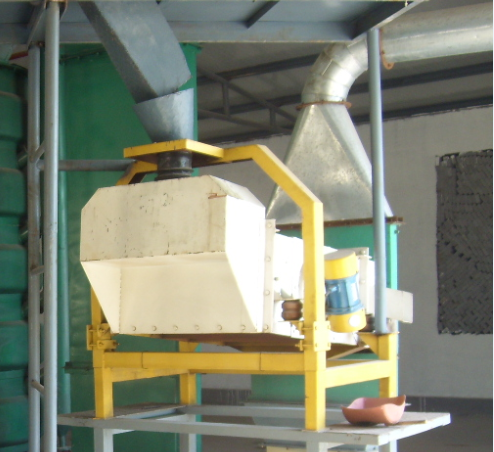 | | | | | | |
| --- | --- | --- | --- | --- | --- |
| Manufacture | ODM/OEM | Brand | YONGSHENG | Model | YS-CLSV150 |
| Voltage | 380V | Power | 0.75kw*2 | Packing | According to you |
| Overall Dimension | 3010*1986*1547mm | Category | Cleaning Equipment | Application | All |
| Condition | New | Processing Capacity | 4500~10000(kg/h) | Guarantee | 1 year |
Dingzhou Yongsheng Grain & Oil Machine Company is Specialized mill of grain and oil facility in Hebei Province. We have 10 professional and technical personnel, and 5 senior engineer among them. The area of mill is 35,000 square meter, and capital assets is 15 million. We own various modern processing machine more than 200 sets, of which is controlled-heat by computer for the heat-treated carburizing process, and up to the national advanced standard, additionally, and the test methods of physical and chemical inspection for the mechanical properties are complete.
For about 20 years, we designed and developed many specialized machines independently Such as: YZY400 whole-day spiral oil extraction press, YZY290 whole-day spiral oil extraction press, YZY260 whole-day spiral oil extraction press, YZYB260 oil extraction press, LZY206 whole-day spiral oil extraction press, LZY206-2 double-spiral oil extraction press, LZY126 double-spiral oil extraction press, LZY98 double-spiral oil extraction press, ZY321, ZY281, 204, 202, 200 oil extraction press; YZCLΦ1200-3000 * 5 floors series of steaming and roasting cooker; 71, 91, 130 disc - type hulling machine; 30, 50, 65 pressure filter; 50, 80 single, double, triplicity oscillating screen machine; triplicity cylinders oil pump kinds of conveying equipment and also all these components for all machines.
And we also undertake adapt of 202 from 200, modification of 204 pre-press expeller, and it is successful for more than 200 sets. We supply specialized spiral in expeller to our customer for high-oil-content plant, mainly as rape seed, peanut, sunflower seed, pepper, rice bran, corn germ, castor-oil plant etc. They are becoming popular with solving the problem of high residual oil rate.

cleaning sieve sieve shaker sieve cleaner sieve mesh strainer fine mesh strainer fine mesh sieve mesh sieve fine mesh fine sieve sieve cleaning drum sieve seed cleaner sieve mesh rotary sieve stainless steel sieve metal sieve
seed cleaning sieves sieve sizes sieves for sale sieve screen sieve strainer rotary sifter seed sieve coarse sieve
rotary shaker rice sieve mechanical sieve shaker steel sieve test sieve shaker sieve holder medium mesh sieve
hand sieve what is a sieve 200 sieve grain sieve rotary grain cleaner fine sieve strainer sieve shaker used
sieve sizes in mm stainless sieve sieve 200 sieve pan grain sieves and screens strainer sieve shaker sieve
very fine sieve grain thresher sieving method of separation fine mesh seive sieve stainless steel
sieving process round sieve what is a fine mesh sieve large meshed sieve sieve sifter clean seed sieving equipment a sieve fine metal sieve food sieve seed sieve set sieve stack sieve drum large plastic sieve
sieve number wet sieve test fine sieve mesh best fine mesh strainer coarse mesh sieve sifter sieves
electric sieve shaker metal sieve mesh sieve diameter
Danh mục sản phẩm : Thiết bị chế biến dầu ăn > Thiết bị làm sạch